Chair of Linguistic Informatics
Prof. Dr. Stefan Riezler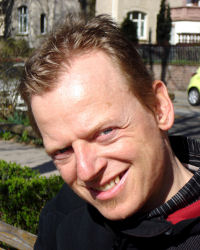 Contact Details
Institut für Computerlinguistik,
Universität Heidelberg
Im Neuenheimer Feld 325
69120 Heidelberg, Germany

Office hours
Wednesdays, 11:15

–

12:45 (Students: Please send email in advance!)
Phone
+49 6221 54-3097
E-mail
riezlercl.uni-heidelberg.de
Research Interests
Stochastic modeling of natural language, including statistical parsing, clustering, summarization, machine translation, question answering, information retrieval.
Statistical machine learning methods, especially unsupervised, semi-supervised and discriminative learning techniques.
News
I will give an invited talk on the topic of "Learning with Big Data" at the Lisbon Machine Learning School, taking place from July 24-31. The school covers a range of ML Topics, from theory to practice, that are important in solving NLP problems that arise in the analysis and use of Web data.
Members of the project Cross-language Learning-to-Rank for Patent Retrieval successfully participated in the NTCIR-10 PatentMT shared task. On the constrained track, which used only resources provided by the organizers, our system, titled "HDU", ranked 2nd for Japanese-to-English and 3rd for Chinese-to-English patent translation with respect to automatic evaluation. For a detailed system description, see our paper in the list of accepted papers for 2013
We released a German-English parallel patent corpus of 23 million sentences. For more information and download, please see the PatTR page.